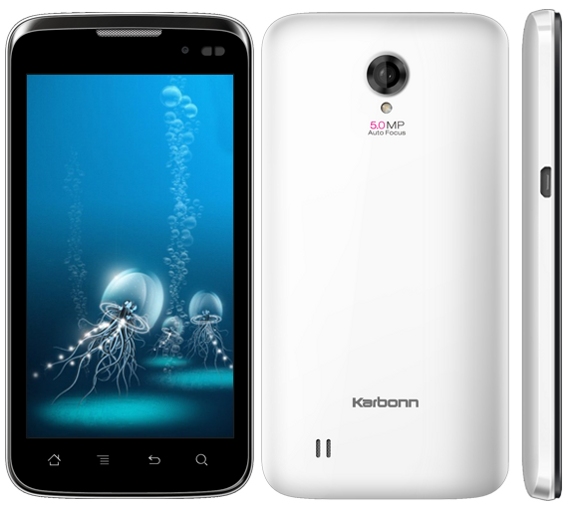 Overview:
Karbonn has finally launched a new smartphone "Karbonn A21" in the Indian market. "Karbonn A21" is pleased with lots of interesting features with a sleek design.
About the Brand:
May be many of us do not know about the brand "Karbonn". Karbonn is an Indian company, established in 2009. By the beginning, this company deals with cheap phones only. But now it also is focusing on the latest smart phone to launch. And the latest launch was A21.
Let's have a look over the features & functions of this A21.
Price:
The market value of this A21 is about Rs 9849 only.
But the question is what you get after the payment of such amount. Means what features & functions you get bundled with this A21.
So, let's have a look over the features & functions of this A21.
Interface:
Karbonn A21 comes in slim and sleek design. The body is covered with stylish and delicious color combinations. Currently this A21 is available with a single color combination that is pearl white, where white gives a pleasant look.
A21 comes with a 4.5 inches of capacitive display with multi touch facility. This big screen supports a resolution of 480×800 pixels. The picture quality of this phone is quite impressive.
Operating System:
Karbonn A21 runs over Android platform of version 4.0.3 (Ice Cream Sandwich). As we all know that ICS allows any device to run more responsively and smoothly than its older version. You can use almost all the apps from Google Play which support ICS.
Camera:
It has a 5 MP camera at the rear side which captures all your images in high definition mode. A LED flash is also fixed behind the rear side camera for capturing images and videos in dark. This 5 MP camera gives an auto focus and face detection facility. Not only this, A21 is also pleased with a front camera of 1.3 MP for video calling purpose.
For connectivity:
This phone is delighted with many connectivity options like 3G/GPRS, Wi-Fi, Bluetooth, microUSB. You can enjoy a high speed of data connectivity while using 3G or Wi-Fi.
Memory & Battery:
It has a 4GB internal memory and if you want to expand its memory then you can use an external memory up to 32GB.
This A21 comes with an 1800 mAh battery, which gives a fantastic battery support to this device. You can enjoy a talk time of 5 hours. Apart from the talk time, you can also enjoy the music & videos for a longer time period.
Other Features:
It has many other feature, some of them are Radio, Mobile TV (from third party application), and GPS navigation. It supports multi language for your sake; hence you can enjoy your native language (if mentioned in list).
Pros:
This A21 is powered by a 1.2 GHz dual core Qualcomm Snapdragon processor which is quite impressive. Its powerful processor leads all its apps to work more efficiently and smoothly. The navigation speed of this smartphone is outstanding due to its powerful processor.
Cons:
As we all know that this A21 is new in market. So we don't have any complaints regarding this phone yet.
Why to prefer:
We can prefer this phone because of its high responsive display, latest version of OS Android 4.0, HD image capturing capability, powerful processor. Another reason for preferring this phone may be its powerful battery.
In the box:
You will get a handset, a headset, a Charger, a Battery and a user manual.
Conclusions:
We conclude that this phone is the best among its category. A21 gives all impressive features that a person can expects in their phone. And this all you can get at very genuine price of Rs 9849.
Overall, you all can go for this phone, if need a cheap and best smartphone.