Looking for perfect radio apps? Then choose from here.
Many people think that they can store a large collection of songs in their iPhone. But they must know that they cannot store all the songs in their iPhone. So what we need for listening a variety of songs daily. I think the simplest answer would be a "Radio". A radio has a vast collection of songs. It always plays those songs which touches our heart. Not just this only, radio also provides you with latest news, gossips, movie reviews and many more things. The most important feature of a radio is you can request to play some selected songs. So in short, we can say that radio has almost all the songs that you want to listen. And this is the biggest positive point of listening radio.
Now, if you have iPhone and wanted to select the best Radio app, which has a better sound quality, better interface and better connectivity, then you are at right place. Here we are discussing about few best radio apps in the market for iPhone.
Let's have a look over the first app, among the list:
AOL Radio:
One of the best radio apps for iPhone is AOL Radio. The most interesting thing about this app or you can say the most interesting feature of this app is its function which combines the all features of Traditional radio app and Pandora app. This radio app offers almost 150 live radio channels under the category of traditional radio and almost 350 mix stations like Pandora. Overall, this app would behave as the best radio app among the list.
iHeart Radio:
The second best radio app for iPhone is iHeart radio app. This radio offers more than 750 radio channels from the whole country. Overall, you will get a wide variety to choose according to your like. This radio app also offers news, whether, and sports channels which makes it somehow special than other in this category. The only problem with this app is you can't skip the music which you don't like or you can't give preference to your choice just like Pandora do.
Grace Digital Radio:
The third most useful radio app for iPhone is Grace Digital Radio. This radio offers a great variety of channels around 50,000. You can access them all from any place with the help of internet connection in your device. Overall, Grace Digital Radio app provides AM and FM radio stations by streaming through internet. This radio app also provides you BBC, talk shows, NPR and many more channels from whole world.
This radio app is not free. Hence it charges $4.99. You can buy it once and use then. Grace Digital Radio offers lots of channels in a minimal charge.
Last.Fm
The fourth app is last.fm for iPhone. Basically this last.fm is not a radio app which provides a bundle of channels through internet streaming. Last.fm is an app which allows you to design your own radio channel and run it. This app provides you with music of your preferred artists. Overall, you can setup your own radio channel by using this app. At last this app also asks you for your feedback to improve the performance of app.
Sirius XM internet Radio:
The fifth best radio app for iPhone is Sirius XM internet Radio. Before using this app, you need to subscribe Sirius XM radio satellite services then after you will able to use this app perfectly. Once subscribed with the Sirius XM radio satellite services, then this app will provide a bunch of 120+ channels which can be used for music, talk shows, news, weather forecast and many more. This radio app seems as the best one if you travel a lot in cars because the subscription of Sirius XM radio satellite services is a sanity saver.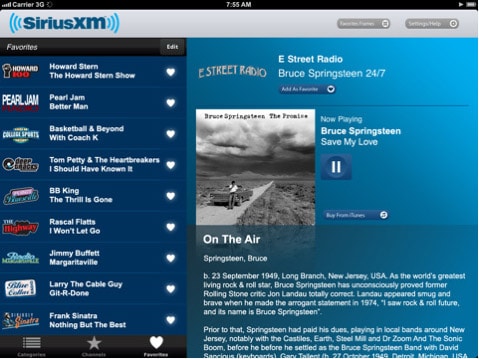 Conclusion:
After understanding the features and the functions of these 5 best radio apps for iPhone, we conclude that all the above mentioned apps are the best in their specified work. For example, if you need to listen songs, news or any other informative events from worldwide then you can go with Grace Digital Radio. But if you need to run your own radio channel then last.fm will be the great choice. And if you want to listen music of your preference, then AOL Radio will be the right choice for your iPhone.
These above mentioned apps are the best radio apps for your iPhone. You can use any of them in your iPhone for enjoying the radio services.